Hannah Smith, Head of Operations for Careers and Placements at the University of York, shared an inspiring story at the 2018 Career Services Day about how the University optimises the student journey.
With a Career Services team of around 40 people for its 18,100 students, the University of York was awarded Gold in the Teaching Excellence Framework and implements an employability initiative called the York Strengths programme.
York Futures, and how employability integrates with study paths
Over the last year, the Careers and Placements department at the University of York has designed a new five-year strategy. This strategy revolves around 3 main goals:
Communicate a distinct and concise narrative and present a clear journey map to help all students navigate available opportunities
Explore students' more positive employability characteristics
Offer experiences that support personal and professional development
Goal #1 of the roadmap, "communicating a distinct and concise narrative and present a clear journey map", is the mission of "York Futures", an umbrella term for all employability initiatives.
" The goal of York Futures is to give our students the opportunity to learn and discover more about themselves as people and to then present opportunities that will further enhance their most positive employability characteristics. We do this from the beginning of the student's journey. First-year students may not be thinking about their careers prospects in year one so our challenge is to subtly reinforce positive messages and get them thinking about their unique strengths as early as possible."
York Futures and the student journey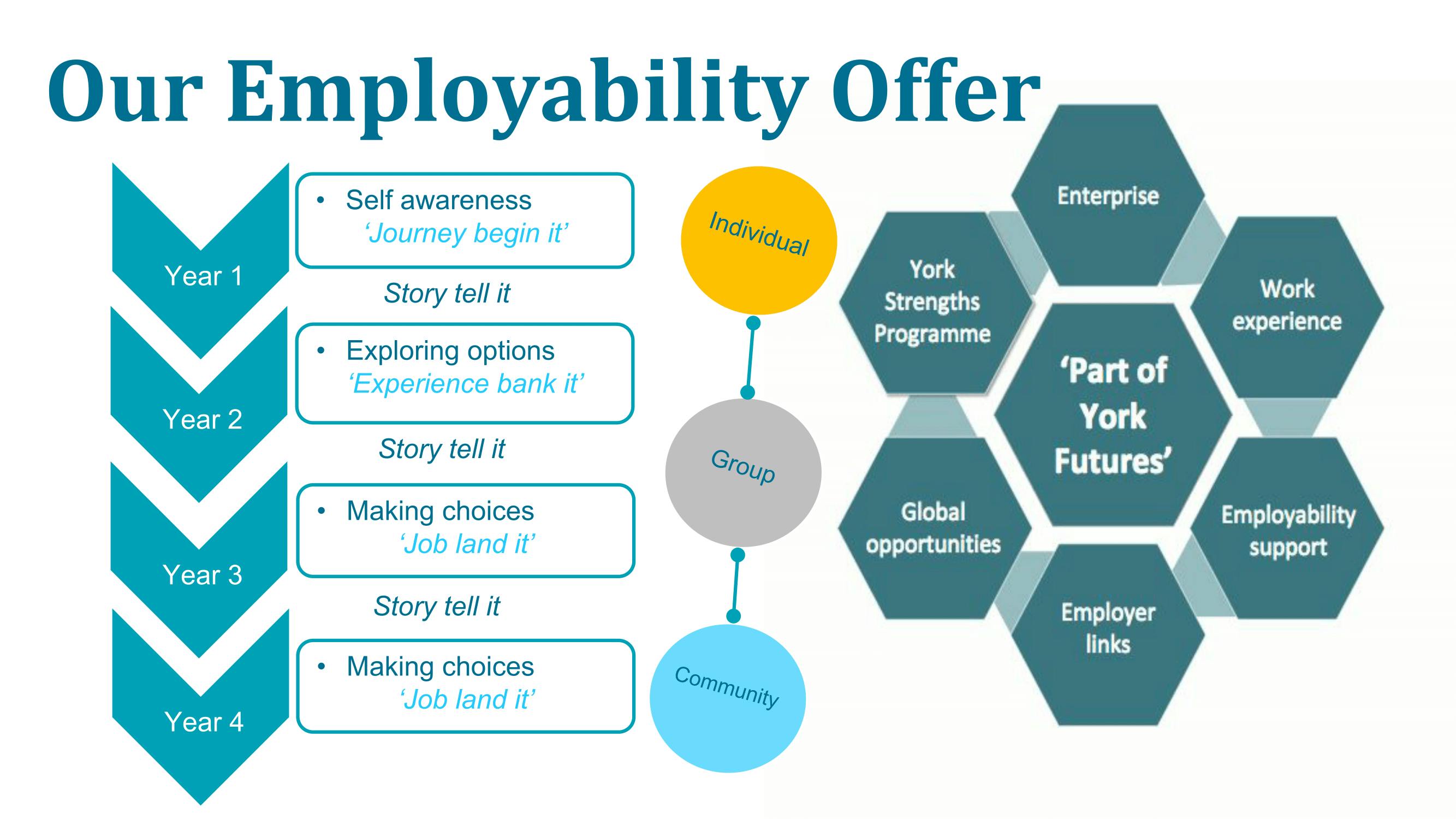 At the heart of the entire strategy is the social change model: every initiative must benefit the individual, the group and society as a whole. Over the course of a three-year or four-year degree, students will journey through these three phases:
🏁 Journey, begin it
Starts in Year One with a focus on the student gaining better self-awareness of themselves as an individual. Without putting pressure on students, the programme encourages them to think about their strengths and preferences.
💪 Experience, bank it
The student explores different options, therefore finding their place and which groups they want to belong to. Among other things, this includes joining student organisations, taking part in specific activities, and volunteering. Students also have the opportunity to apply for York Award, a certificate that demonstrates to employers that the student has taken a proactive approach to life at University.
👔 Job, land it
Over the third (and fourth, if relevant) year of their degree, the student will be encouraged to make choices and find the context in which they will bring the most to the community as a whole. Through their time at York, the hope is that the students will have become more self-aware and developed greater resilience, preparing them well for the world of work. In their third/fourth year, Students can apply for York Award Gold, a certificate of the University that further demonstrate the student's commitment to their personal and professional development.
The York Strengths programme is part of the "Journey begin it" year: it helps students identify what kind of activities energises them in order to help them with their career choices.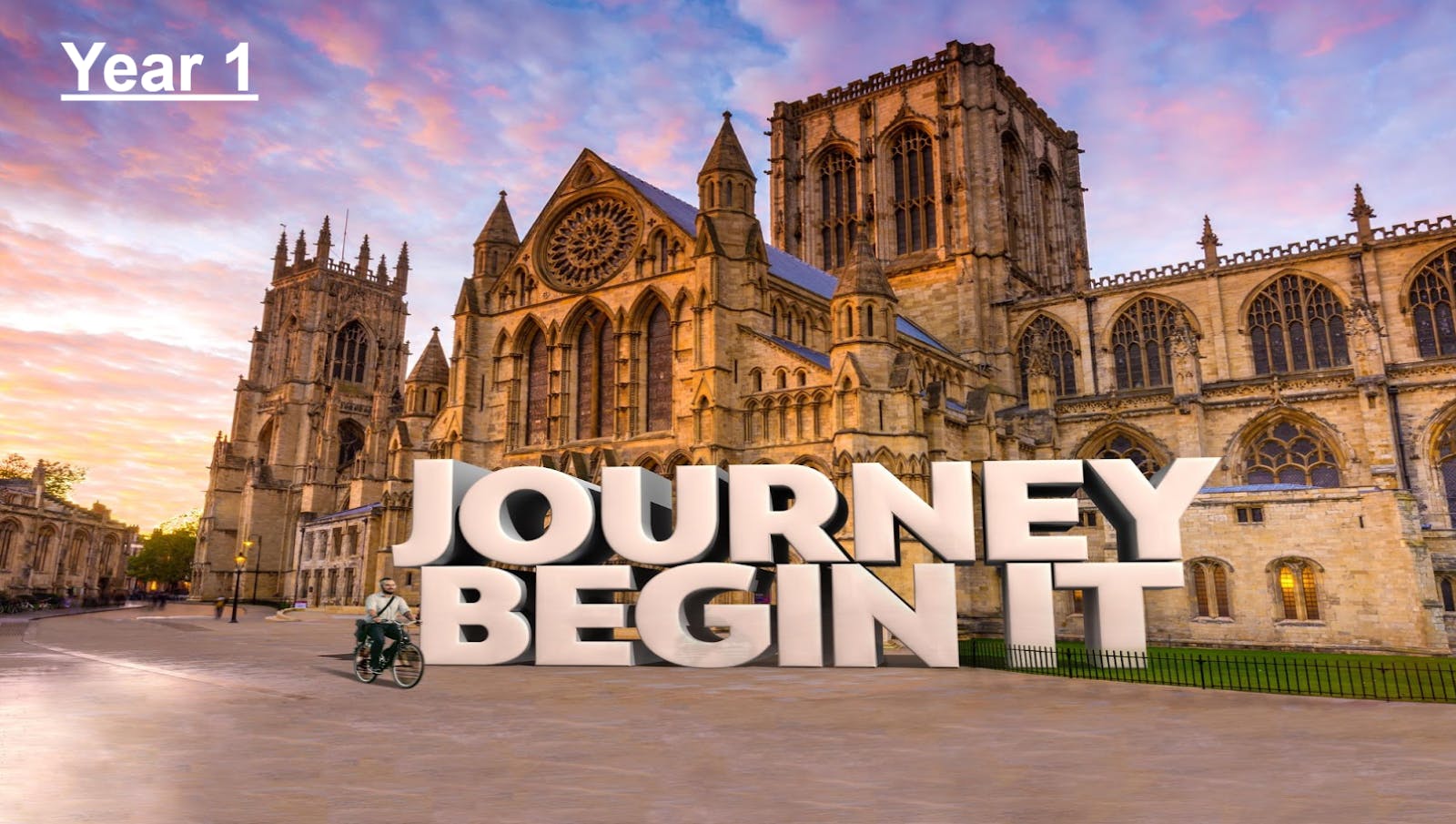 The York Strengths programme: finding out what makes each student unique
Identifying key soft skills for the world of work
As individuals, strengths define us. They are not only what we are good at, but more what energises and motivates us. Because people who like their job are less likely to suffer from stress and anxiety, the University of York actively encourages their students to find out what their strengths are so that when they graduate, they consider career choices that naturally align to their strengths.
The York Strengths programme has been designed with a number of employers. It started with identifying a set of key soft skills that are usually associated with excellent graduate recruits. York's 9 strengths are:
Organisational fit seeker: someone who strives to achieve an excellent fit between their true selves and the work that they do
Problem solver: someone who relishes the opportunity to analyse complex information
Pioneering thinker: someone who is stimulated by change and approaches challenges in original and innovative ways.
Self-improver: someone who actively seeks out honest feedback that will help them develop as a person
Agile learner: people who have a love of learning and are able to acquire and apply new knowledge at pace
Digital connector: are people who enjoy the opportunities inherent in new technologies
Resilient achiever: is someone who constantly pushes themselves and works hard to achieve their goals
Relationship builder: is someone who builds honest relationships and enjoys collaborating with others
Authentic communicator: someone who engages with people of all cultures and at all levels, adapt their communication style whilst remaining true to their beliefs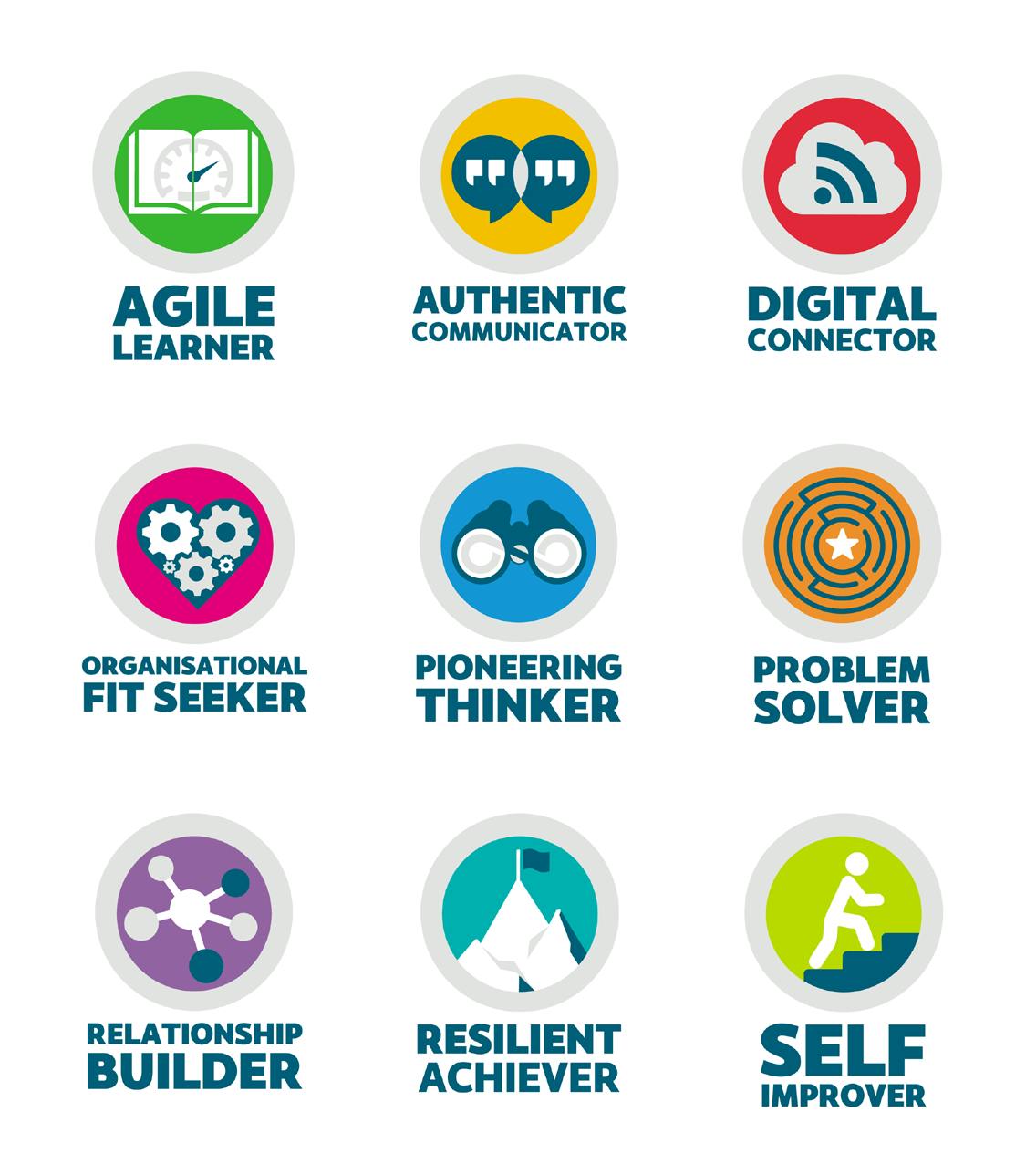 80% of employers in the UK focus more on soft skills as opposed to what degree subject the student has studied. Working with key employers has enabled the York Strengths programme to really understand employer expectations and identify strengths that will be needed in the future.
As part of the programme, all first-year students are invited to a one-day workshop. During this workshop, in groups of 6, they solve several challenges together. Each student has an assigned observer. At the end of the day, the observer provides the student with one-to-one feedback and focuses on the top two strengths they have seen the student demonstrate throughout the day.
The day starts with an employer talking about the future world of work for students. The first part of the session is really about positioning the day for students, giving them insight into what's to come and encouraging them to fully engage with the activities so their style and behaviour can be observed.
A key feature of the York Strengths programme is to purposely avoid talking about the student's weaknesses. The essence of the day is to really help students discover more about themselves, learn more about what they are naturally good at and find their passion. Of course, for some students, this presents a challenge. They may be frustrated by not knowing what they should improve on (it's especially very common among students who demonstrate high resilience!) For Hannah Smith, "it's because of the school system, which makes it hard for students to accept they won't be great at everything! Students at York want to be top of the class, they want better grades and the pressure of increasing tuition fees means our students are constantly striving for perfection. Still, we want our students to know what they are good at and not give them yet another reason to put pressure on themselves."
The Strengths programme is not mandatory, although word-of-mouth and a full-scale marketing campaign attract students to the day. The University is working towards an objective of getting all first-year undergraduate students through the one-day event, which will run throughout Spring and Summer terms next year.
Overcoming anxiety and pressure through strength assessments
Mental health is a priority issue for many higher education institutions in the United Kingdom and across Europe. As stated above, the school system puts pressure on students in the form of grades and rankings, parents can add pressure because of tuition fees, and peers may add even more if there is social media bullying.
A main focus of the York Strengths day is that it is a safe space for students: they are reminded that the day is not a test and is not designed to judge them in anyway. Observers and staff are trained to spot the signs in the event a student starts to feel overwhelmed. Staff are able to reassure and then signpost the student onto the relevant services should follow up action be required. This way, students will always have the help should they need it, especially if they suffer from social anxiety.
More generally, the University of York has recently invested half a million pounds in mental health provision. There is a 24/7 Samaritans hotline, counselling, and an open door team of mental health professionals.
How does the York Strengths programme integrate with the student journey?
Starting from their second year, students are actively encouraged to get involved with activities and opportunities that will further enhance their two core strengths. Hannah Smith specifically adds: "We considered including the word Leadership in the name of our programme, but not everyone is a leader or wants to be a leader and that's OK, we want to show that's fine. Each person has their strengths and a team of leaders won't amount to much without other skills."
" By providing students with opportunities to better understand their personal drivers, motivations, to take a self-reflective approach, to explore career options and gain relevant work experience, our hope is that our students feel empowered to make career choices that align to their strengths and thus, are right for them."
Through the Strengths programme, the hope is that York students will become more self-aware and develop the ability to connect their experiences to their strengths. By building their experience around their strengths, students develop a deeper understanding of what they enjoy and where their passions lie. When it comes to recruitment, the Strengths programme allows students to talk openly about their core strengths and to offer real and relevant examples that connect their experiences to their strengths.
The vision behind the University of York's five year strategy is threefold - to scale high-impact preparation for students, to engage students much earlier in their time at York and position York at the cutting edge of support for employability within the sector.