Decathlon seems to have developed a winning strategy in face of two major HR challenges of today: attracting and retaining talent. In 2018, they were awarded first place in the Great Place to Work ranking for the second year running. So, what's their secret to giving the new generation all they need to unlock their full potential and make a real impact?
We recently had the opportunity to sit down with Kamel Medjabra, HR Communications Manager at Decathlon France, who shared some of the group's best practices with Jérémy Lamri, Director of Research, Development and Innovation, as part of our recent conference, Empowering the New Gen.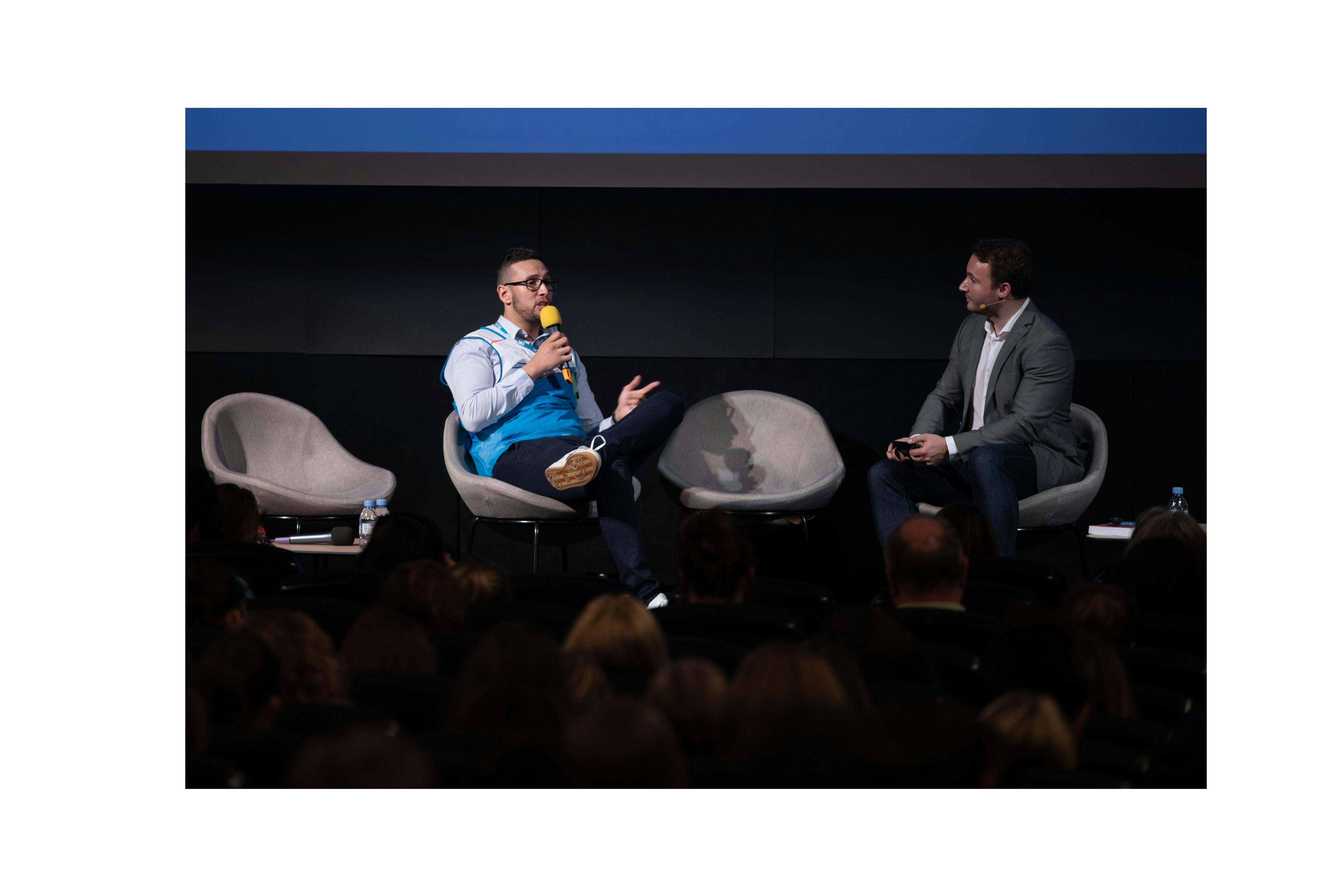 🚴Laws of attraction: a shared passion and an empowering work environment
The number one selection criteria for getting hired at Decathlon is a passion for sports. "It's an absolute must," explains Kamel Medjabra. This common passion feeds into a mission that all employees, or "teammates", as they're known, share - serving athletes. And "who better to serve athletes than athletes themselves?".
To make a success of this mission, Decathlon offers the new generation an empowering work environment. Young employees - whether graduates or not - can very quickly become management material. In stores, teammates soon find themselves in charge of various sections and managing teams of between 5 and 40 people. They're given the autonomy to make their own decisions and take initiatives.
These shared passions and opportunities are best explained by Decathlon employees themselves. With this approach, the organisation can capitalise on its employees' satisfaction to communicate - sincerely and empathetically - with students and recent graduates. Teammates who are hired on permanent contracts can even decide to become school ambassadors to share their experiences with future generations.
🎿 Internal mobility: a must for retention
At Décathlon, every teammate is the force behind their own career path. Kamel, for example, was offered a role in Paris, but preferred to start his career in London. For the company, finding the right fit for employees and the organisation alike is much more important than filling specific roles. Leaving it up to individuals to set the stages of their career paths is what helps retain talent.
Opportunities within the group are plentiful, spread across a range of divisions and countries. "This helps employees renew themselves, to discover new landscapes and avoid getting bored", says Kamel.
He also explains idea of 'T-shaped professionals, which is applied right across the company.
"The vertical bar of a 'T' is the core of the business. Once you've mastered that, you can activate the horizontal bar - moving out of your comfort zone and towards new challenges."
This is how talent is allowed to flourish within the company. People have the freedom to choose to work on cross-disciplinary projects, which in turn helps them explore their talent.
🔎 To unlock talent, set up a transparent organisation
On an everyday basis, teammates know they have a variety of resources to call upon if needed.
Firstly, their manager - or rather, their leader - who will personally support them in finding real value in what they do. This involves changing the traditional role of managers. At Decathlon, they're less of a supervisor and more of a mentor, supporting and unlocking talent. 1-to-1 meetings take place monthly, if teammates want them. It's by listening to their teammates that leaders can offer them the working environment they need to grow.
The Decathlon Academy helps teammates continuously improve their skills. Training objectives are clear and adapted to the realities of roles within the organisation. This is a fundamental issue, especially given Décathlon recruits recent graduates, as well as young people who didn't go to university – talent can be developed further in-house.
Finally, to make internal mobility a more fluid process, they use an 'HRIS triptych', an ecosystem made up of 3 tools to:
- make ongoing projects more transparent,
- source talent internally,
- and put employees in touch with the right people to make a success of their projects.
This transparency requires clear structures and communication. All employees are aware of the opportunities available and it's down to them to express an interest. The company's structure supports them, but they remain the main drivers of their professional lives.
"This can be hard to manage, as managers aren't always fully aware of the steps their teammates are taking. Sometimes, we come up against the limits of this model, communication problems and the like, but that's why there must always be goodwill, with everyone taking responsibility for their own actions within our shared ecosystem."
This isn't a perfectly articulated system, but rather a constant search for balance, which naturally leaves room for error. Fundamentally, it's human.
As a final word from Kamel, "we mustn't be afraid of today's generation. They are our future. It's up to us to adapt, to find the means, tools and resources necessary to support them and integrate them as best we can within business".